Excellent - also called "Sticky buns". Grandmother used to make these for us for special breakfasts (and let the dough rise on the radiator). Mom lets the dough rise in the sunshine in her bedroom where its warm.
Dough:
1 package yeast
1/4 cup warm water
3/4 cup milk (warm)
1 teaspoon salt
1/4 cup sugar
1 egg
1/4 cup soft shortening
3 1/4 - 4 cups flour
Filling:
4 Tbl margarine, softened, divided
1/2 cup sugar
4 teaspoons ground cinnamon
1 cup raisins, divided
Butterscotch-Pecan Topping:
1 cup margarine or butter
1 1/2 cups packed brown sugar
48 pecan halves
Dissolve yeast in warm water in large bowl. Stir in milk, sugar, shortening, salt, egg and 2 cups of the flour. Beat until smooth. Mix in enough remaining flour to make dough easy to handle. Turn dough onto lightly floured surface; knead until smooth and elastic, about 5 min. Place in greased bowl; turn greased side up. Cover with damp cloth; let rise in warm place until double, abt 1 1/2 hours. (Dough is ready if an indentation remains when touched). Punch dough down with floured fist and divide in half.
Before rolling dough into rectangles, heat margarine or butter until melted; stir in brown sugar. Spray Pam in each of 24 muffin tin cups, and distribute melted mixture into the cups (or spray Pam in a 9" x 13" and 9" x 9" pan and spread melted mixture in them). Position 24 pairs of 2 pecan halves, upside down in each cup (or in rows - 3 across by 5 down, and 3 by 3, in respective pans).
Roll half dough into rectangle, 15x9 inches, on lightly floured surface. Spread with half of the margarine. Mix sugar and cinnamon; sprinkle half over rectangle. Sprinkle half of the raisins on top. Roll up tightly, beginning at long side. Pinch edge of dough into roll to seal well and stretch roll to make even. With scissors, cut roll in half, and then each half in half, and then each section into thirds, yielding 12 individual rolls. Turn each roll in its side and center over each pair of pecan halves.
Repeat with remaining half of dough. Cover pans with a damp cloth. Let rise until double, about 40 minutes.
Heat oven to 375 degrees. Bake until golden brown, 25-30 minutes. Immediately invert pan onto foil-lined cookie sheet. Let pan remain a minute so butterscotch can drizzle over rolls.
Yield: 24 'Sticky Buns'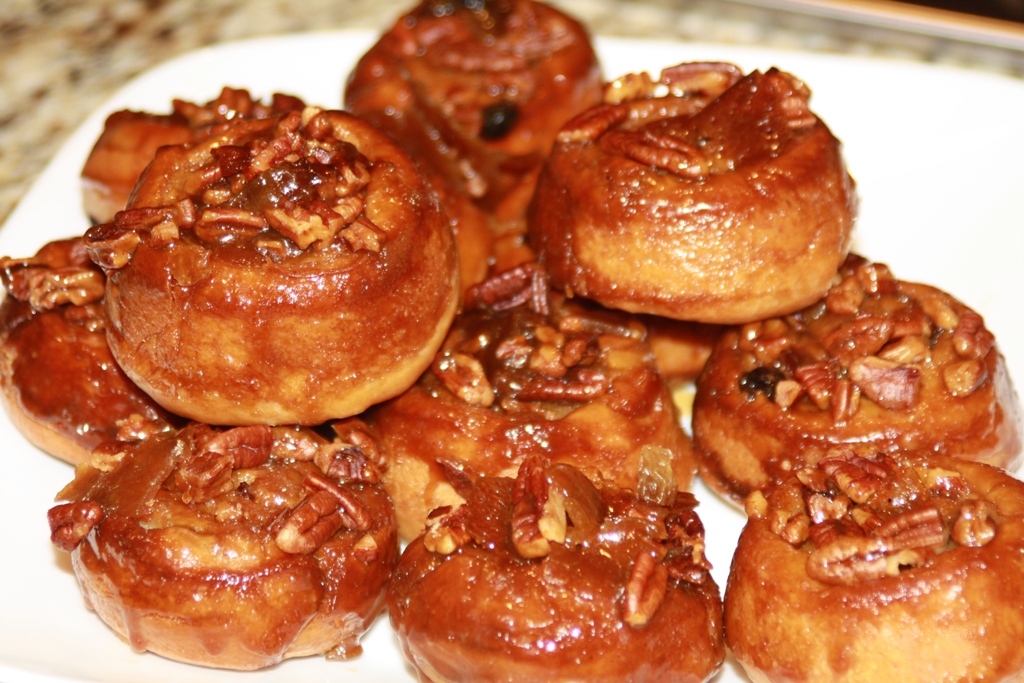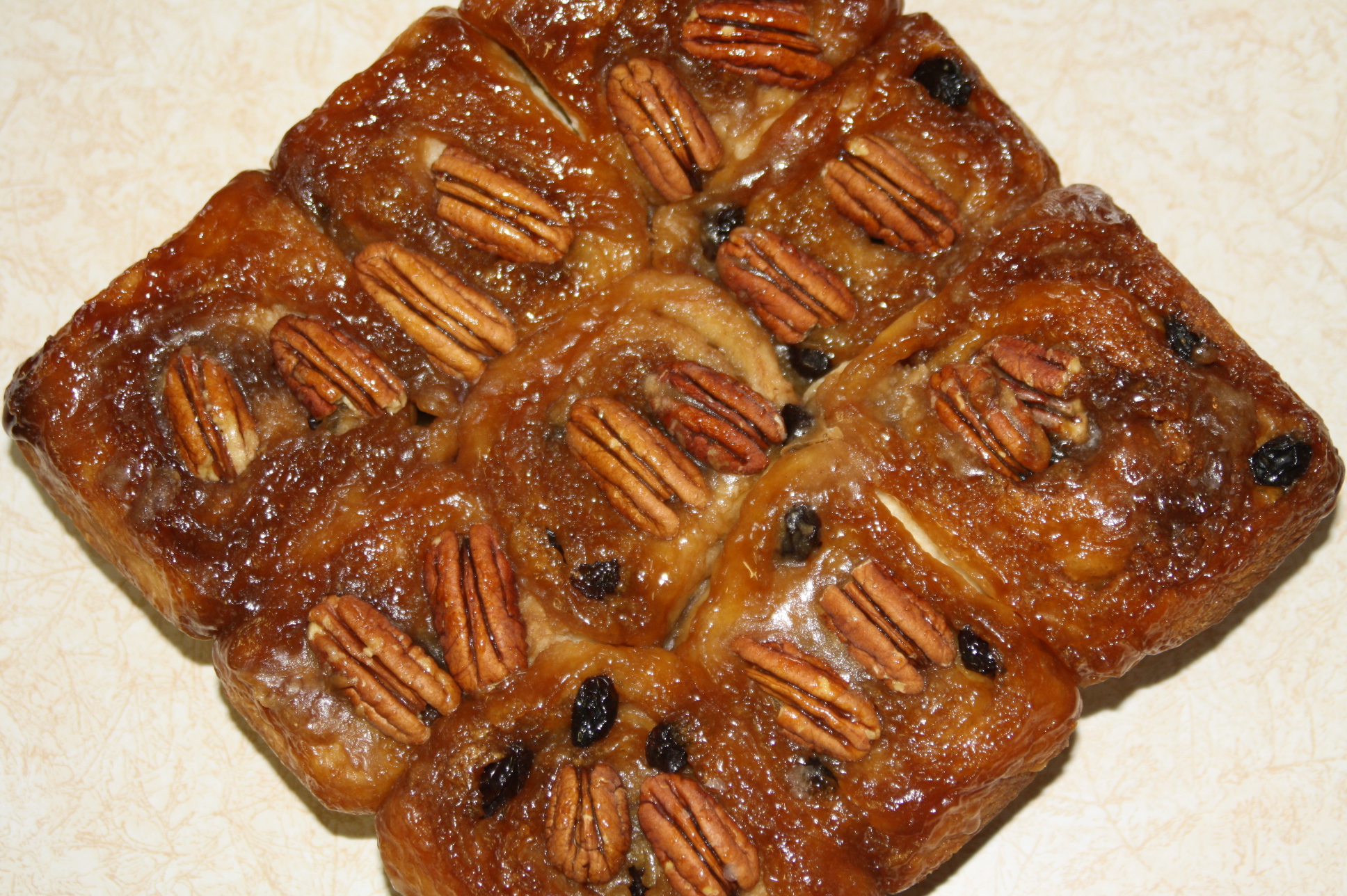 Breakfasts & Brunch
Not in a book yet