Ingredients:
Butter or margarine 1 1/4 c
Cocoa powder 1/2 c
Confectioner's sugar 3 1/2 c
Egg (or egg beaters) 1 (or 1 egg equiv.)
Vanilla 1 t.
Graham Cracker Crumbs 2 c
Water 1/4 c
Green Food Coloring 1/4 t
Mint Flavoring 1/4 t
Chocolate Chips 1 1/2 c
Bottom Layer: In microwave bowl combine 1/2 c. butter and cocoa, melt and stir well. Add 1/2 c confectioner's sugar, egg and vanilla. Stir in crumbs. Press into bottom of large ungreased baking pan.
Middle Layer: In small mixer bowl combine 1/2 c. melted butter, water, mint extract, and green food coloring. Beat in 3 c. powdered sugar with mixer (until not runny but not too stiff to spread.. add more sugar if too soft.) Spread over chocolate layer. Chill one hour.
Top Layer: Melt 1/4 c. butter with chips. Spread over top. Chill until set, then cut in small squares (sometimes they are easier to cut when left at room temp for a little bit). Store in refrigerator.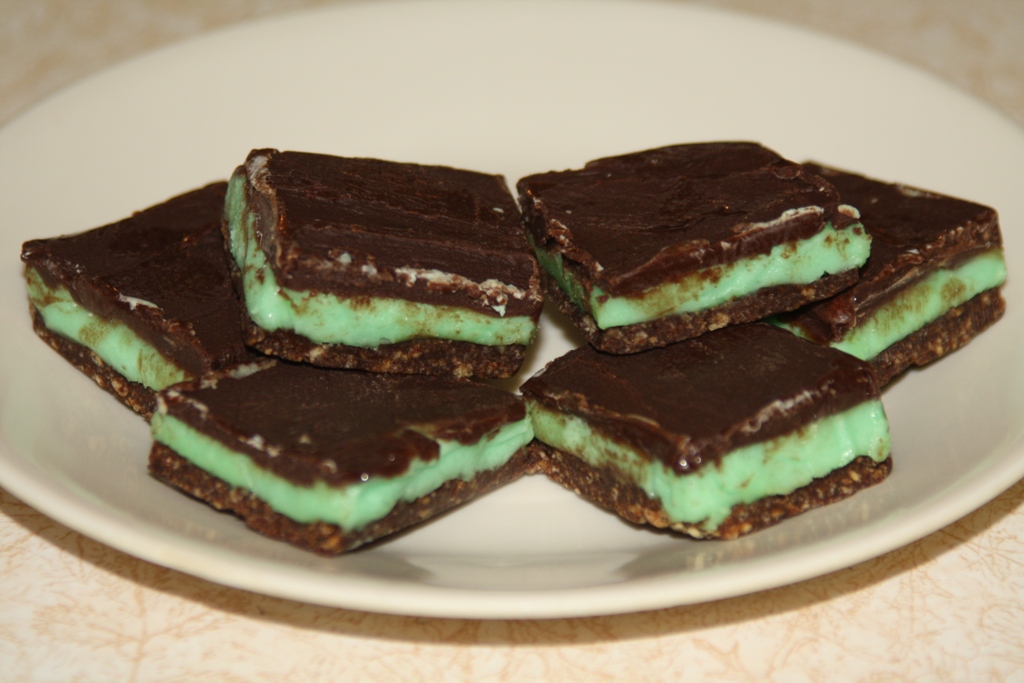 Desserts
Not in a book yet
Chocolate