This is another Cortesi family staple and very good.
1 large onion, chopped
3 medium potatoes, cut in 1/4" slices
3 carrots (or 10-12 baby carrots), cut in 3/4" pieces
1 (2 1/2) broiler/fryer chicken, skinned and cut in serving size pieces (OR 6 thighs, skinned)
1 tablespoon dried parsley flakes
2 teaspoons salt
1/2 teaspoon celery seed
1/4 teaspoon finely ground black pepper
1 can mushroom soup
Water
1 can (8 oz.) refrigerator biscuits*
Place first 8 ingredients in Crock Pot in the order they appear in the ingredients list. Pour in mushroom soup. Refill soup can with water 1 1/2 times, and pour in over soup. Cover and cook 7 to 9 hours on low, or 4 1/2 to 5 hours on high. Drain chicken and vegetables (keep broth!); place in bowl, cover to keep warm. Pour broth into dutch oven (lg 6 qt pot); heat to boiling over medium heat. Separate biscuits and drop into boiling broth. Turn heat to low and simmer 15 minutes, uncovered. Cover and cook 10 minutes more. Serve dumplings and broth with chicken and vegetables.
Serve with rice and a green salad
Serves 5-6.
Alternatively, mix Bisquick (follow directions on box) biscuits and drop in to top of Crock Pot to cook.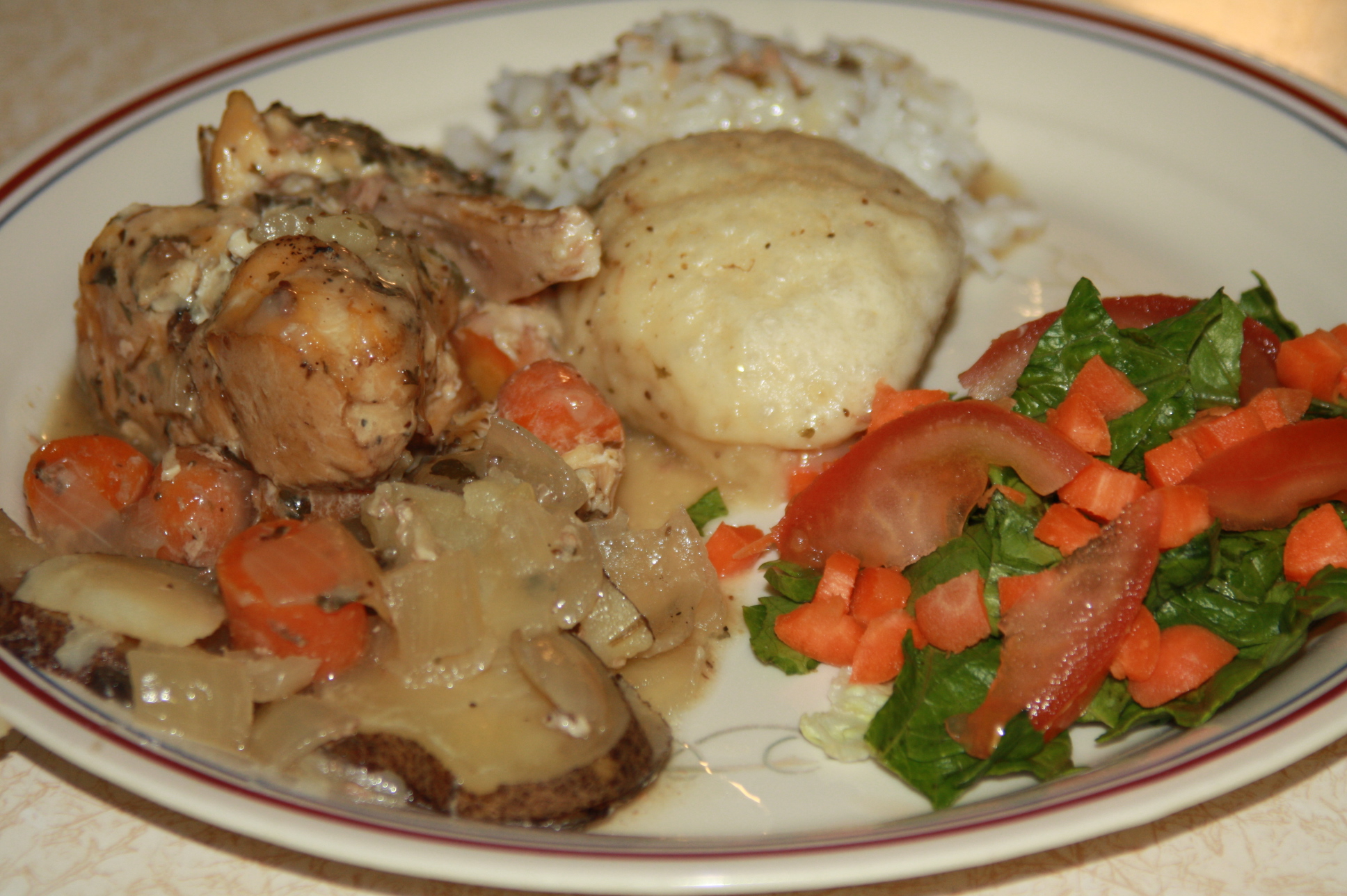 Main Dishes
Book 1
Chicken